Hoka One One
Kawana men
VAT included
Description
Technical specifications
Category: Structured cushioning
Offset: 5 mm
Weight : 288 g
Ideal for : daily training, both running and fitness in the gym. Thanks to the new Hoka compound, Kawana is a cushioned yet responsive shoe, able to meet the needs of your fitness workouts and your medium-short runs.
Athlete's weight : 60-80 kg
Running pace : medium (4.30-5.30 min/km)
Guide to technical specifications
Kawana owes its name to the famous Gold Coast beach break and is the result of yet another success in the development of HOKA foams and geometries. Marking a break with the past thanks to a new and reactive foam, which guarantees a firm rebound without exaggerating, this sneaker for all budgets offers an incredibly balanced user experience. Kawana features a modified shock-absorbing padding with SwallowTail ™ geometry and its beveled heel boasts a wider flat surface designed for smoother impacts.
You'll love it because: It's infinitely adaptable and naturally fluid.
CHARACTERISTICS
New and responsive CMEVA foam midsole
SwallowTail ™ heel geometry
Anatomical heel construction
Longer heel pull
Meta-Rocker near the instep
Technical mesh in recycled jacquard
Durabrasion rubber
Vegan product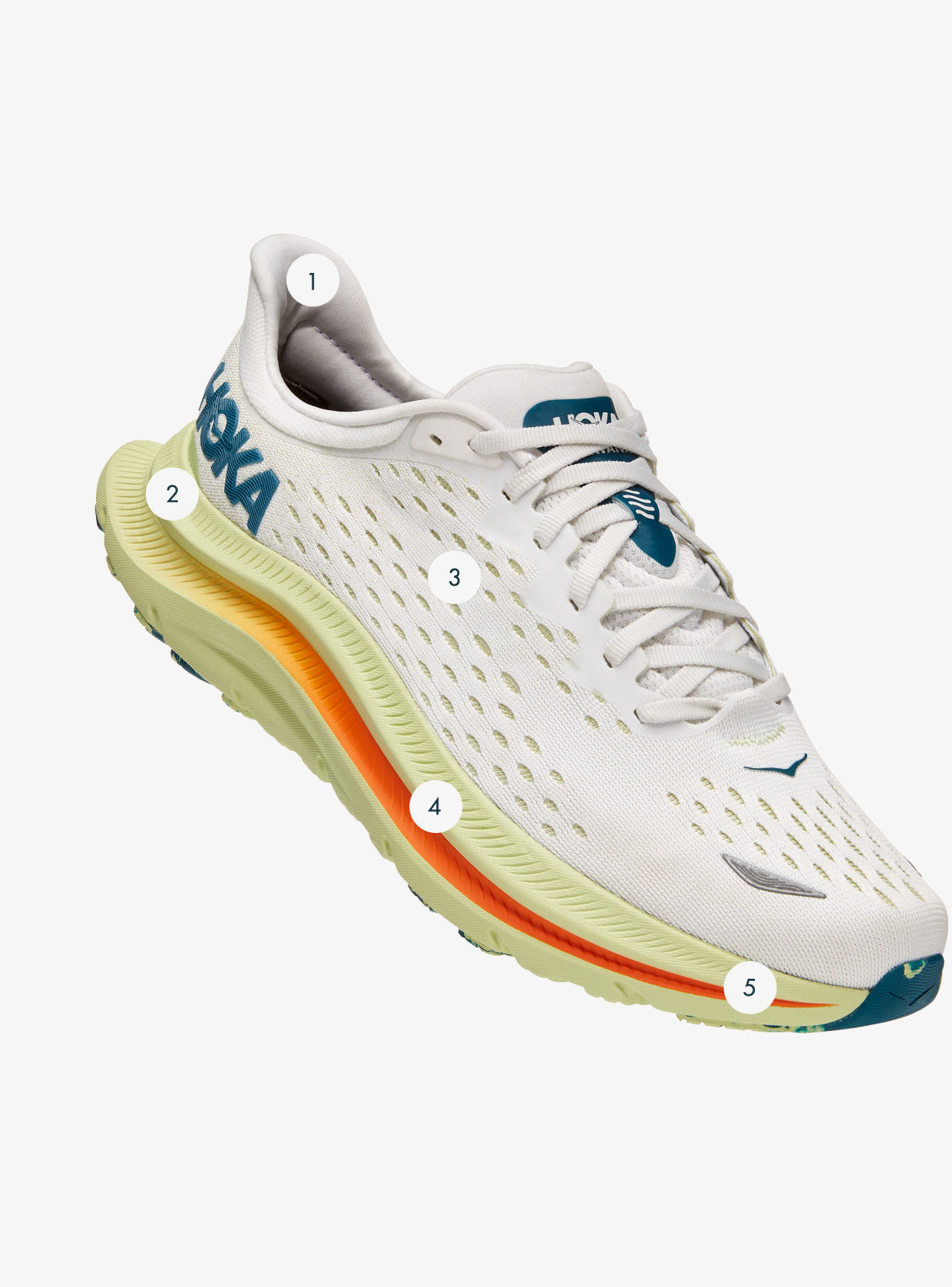 KAWANA IN
DETAIL
1 ANATOMICAL STRUCTURE OF THE HEELDesigned to ensure maximum cushioning in every activity
2 SWALLOWTAIL ™ HEEL GEOMETRY AND EXPANDED IMPACT PADDINGDesigned to reduce the effects of impact, for guaranteed fluidity every time
3 TECHNICAL JACQUARD MESHWith recycled material
4 NEW CMEVA FOAMDesigned to offer a responsive and dynamic experience
5 META-ROCKER NEAR THE NECK OF THE FOOTDesigned for a smooth transition when pushing
COMPARING FOOTWEAR
Discover the differences between the footwear in our range.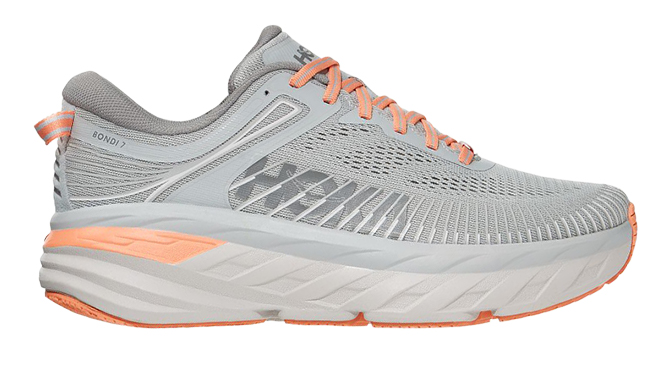 Bondi 7
Kawana has been designed to give you a dynamic fit and a cushioned feel during your workouts. The height of the sole is slightly lower than the Bondi, where the focus is all on super cushioning, with a consequent weight reduction (-20 g) compared to the Bondi.
Kawana is characterized by a more reactive CMEVA foam and SwallowTail ™ geometry, designed to offer a dynamic and versatile sneaker experience, while Bondi 7 is designed for running and walking performance in the name of softness and fluidity.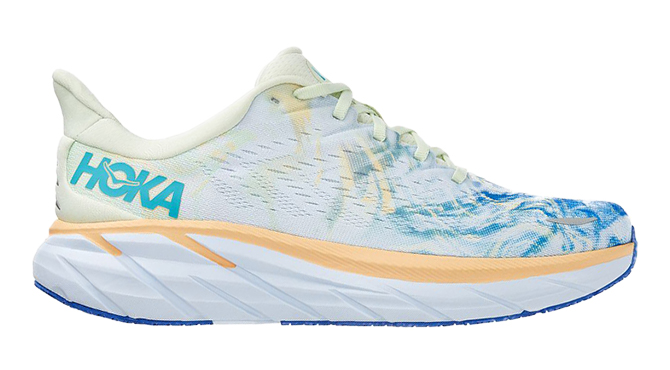 CLIFTON 8
Kawana, your everyday sneaker, is ideal for a variety of activities, including your shorter (5-10km) weekly workouts.
The height of the sole is slightly greater than the Clifton, to provide additional thrust and cushioning, while adding a minimum weight (+30 g compared to the C8).
| | | | |
| --- | --- | --- | --- |
| U.K. | E.U. | U.S. | cm |
| 3.5 | 36 | 5 | 22 |
| 4 | 36 2/3 | 5.5 | 22.5 |
| 4.5 | 37 1/3 | 6 | 23 |
| 5 | 38 | 6.5 | 23.5 |
| 5.5 | 38 2/3 | 7 | 24 |
| 6 | 39 1/3 | 7.5 | 24.5 |
| 6.5 | 40 | 8 | 25 |
| 7 | 40 2/3 | 8.5 | 25.5 |
| 7.5 | 41 1/3 | 9 | 26 |
| 8 | 42 | 9.5 | 26.5 |
| 8.5 | 42 2/3 | 10 | 27 |
| 9 | 43 1/3 | 10.5 | 27.5 |
| 9.5 | 44 | 11 | 28 |
| 10 | 44 2/3 | 11.5 | 28.5 |
| 10.5 | 45 1/3 | 12 | 29 |
| 11 | 46 | 12.5 | 29.5 |
| 11.5 | 46 2/3 | 13 | 30 |
| 12 | 47 1/3 | 13.5 | 30.5 |
| 12.5 | 48 | 14 | 31 |
| 13 | 48 2/3 | 14.5 | 31.5 |
| 13.5 | 49 1/3 | 15 | 32 |
| 14.5 | 50 2/3 | 16 | 33 |