Hoka One One
Mafate Speed 4 women
VAT included
Recycled materials on collar, mesh and laces
Protective reinforcement on the tip
TPU reinforcement
All-new lightweight and resilient foam
Description
Technical specifications
Category: top cushioning
Offset: 4 mm
Weight: 241 g
Ideal for: trail runners and lovers of mountain walks, looking for a well-cushioned and protective model, able to give maximum comfort over even long distances.
Athlete weight: 70-90kg
Running pace: medium (5.00-6.00 min / km)
Technical specification guide
[/ porto_content_box]
A flagship product for technical trails, Mafate Speed ​​4 begins by summarizing the best features of the EVO Mafate and Mafate Speed ​​models.
In the women's version, the same lines are present, but updated with new fabrics and structure, including a breathable single-layer jacquard mesh and a two-component PROFLY ™ midsole with the lightest and most responsive HOKA foam right under the foot.
It's different because: DNA hasn't changed drastically, 21 grams lighter, we've just made Mafate lighter and more comfortable to improve your trail running experience on technical terrain.
You'll love it because:
Built to last, this fourth version has all the Mafate Speed ​​features you love, but improved.
FEATURES:
Recycled materials on collar, mesh and laces
Protective reinforcement on the tip
TPU reinforcement
All-new lightweight and resilient foam
Meta-Rocker near the instep, midsole with PROFLY ™ structure
Vibram® MegaGrip sole with Litebase
5 mm tank
Vegan product
Footwear in comparison
Discover the differences between the shoes in our range.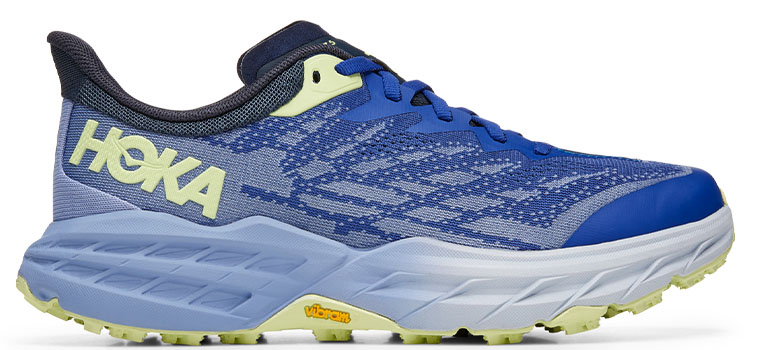 Speedgoat 5
Both Speedgoat 5 and Mafate Speed ​​4 have superior cushioning and a Vibram® Megagrip sole with Traction Lug to inspire confidence on difficult terrain.
Speedgoat 5 features single-density foam for responsive cushioning, while Mafate Speed ​​4 features a dual-density midsole with a softer foam top and a firmer bottom layer and reactive foam rubberized EVA.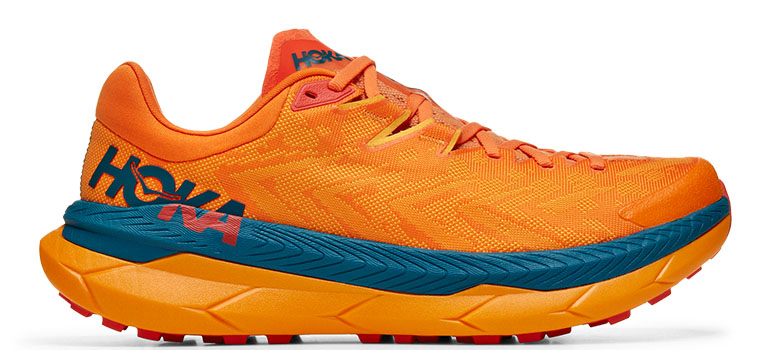 Tecton X
Both Tecton X and Mafate Speed ​​4 feature a Meta-Rocker near the instep and Vibram® Megagrip outsole with Litebase for superior traction.
Tecton X was created to be fast and is powered by parallel plates in carbon fiber and cushioned by a ProFlyX ™ midsole.
| | | | |
| --- | --- | --- | --- |
| U.K. | E.U. | U.S. | cm |
| 3.5 | 36 | 5 | 22 |
| 4 | 36 2/3 | 5.5 | 22.5 |
| 4.5 | 37 1/3 | 6 | 23 |
| 5 | 38 | 6.5 | 23.5 |
| 5.5 | 38 2/3 | 7 | 24 |
| 6 | 39 1/3 | 7.5 | 24.5 |
| 6.5 | 40 | 8 | 25 |
| 7 | 40 2/3 | 8.5 | 25.5 |
| 7.5 | 41 1/3 | 9 | 26 |
| 8 | 42 | 9.5 | 26.5 |
| 8.5 | 42 2/3 | 10 | 27 |
| 9 | 43 1/3 | 10.5 | 27.5 |
| 9.5 | 44 | 11 | 28 |
| 10 | 44 2/3 | 11.5 | 28.5 |
| 10.5 | 45 1/3 | 12 | 29 |
| 11 | 46 | 12.5 | 29.5 |
| 11.5 | 46 2/3 | 13 | 30 |
| 12 | 47 1/3 | 13.5 | 30.5 |
| 12.5 | 48 | 14 | 31 |
| 13 | 48 2/3 | 14.5 | 31.5 |
| 13.5 | 49 1/3 | 15 | 32 |
| 14.5 | 50 2/3 | 16 | 33 |