Hoka One One
Bondi X women
VAT included
comfortable and well cushioned, but always responsive
carbon fiber plate
ideal for medium and long distance races
Description
Technical specifications
Category: Structured cushioning
Offset: 5 mm
Weight: 257 g
Ideal for: medium-heavy weight runners with neutral footing, looking for a responsive model that at the same time offers maximum cushioning and structure, for long distances.
Athlete weight:> 70kg
Running pace: medium-slow (> 5 min / km)
Technical specification guide
[/ porto_content_box]
Extremely cushioned road shoe designed to last over time, the revolutionary Bondi X features a responsive carbon fiber plate. The cushioning and original lines are confirmed and offer the soft and balanced use experience for which the Bondi family is renowned. Bondi X boasts a refined geometry, with an enlarged rocker for greater acceleration, while ensuring a smoother thrust, thanks to the carbon fiber plate. The expanded HOKA shockproof pad has the texture of a marshmallow and boasts the softest foam we have ever used. Featuring an advanced upper with embroidered TPU yarn, Bondi X will take you everywhere and beyond.
FEATURES
Vegan
Mesh upper with 3D hot-melt yarns
Perforated EVA tongue
Ortholite® insole
Heel pull
Carbon fiber plate
Compression molded EVA
Meta-Rocker near the instep
Zoned lightweight rubber
Bondi X is designed to ensure an even more efficient and responsive user experience for our most cushioned road shoe.
This innovation is designed to make the experience of efficient and responsive use of the carbon fiber plate technology accessible for all athletes, not only for competitive runners. < / p>
YOU WILL LOVE IT BECAUSE
The cushioning and fluid use experience typical of HOKA have been enhanced with carbon fiber.
TECHNOLOGICAL FEATURES OF BONDI X
SHAPED COMPRESSION EVA
Designed to ensure maximum cushioning for every activity
CARBON FIBER PLATE
Designed to offer optimal efficiency, kilometer after kilometer
META-ROCKER NEAR THE NECK OF THE FOOT
Guarantees a smooth user experience
MESH UPPER WITH 3D THERMOFUSABLE YARNS
Designed for minimum weight and maximum breathability and resistance
Footwear in comparison
Not all running shoes are created equal. Discover the differences with other Hoka One One shoes.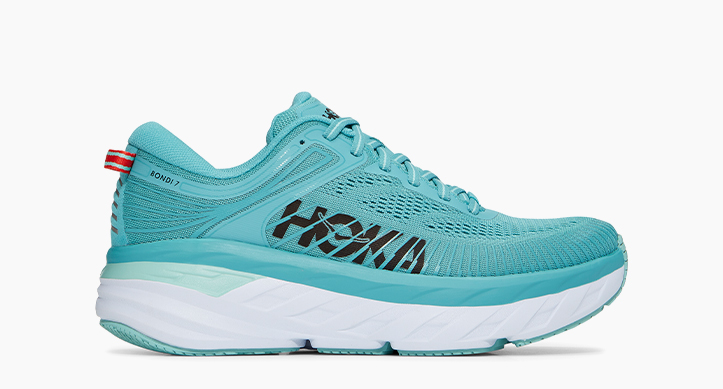 Bondi 7
Both Bondi 7 and Bondi X are designed to ensure the maximum cushioning typical of HOKA and a fluid user experience.
The Bondi X also has a carbon fiber plate in the midsole, introduced to allow more rigid and efficient supports during the stride. This is a performance improvement over the Bondi 7, which offers a softer feel in the supports, for a different type of support and comfort.
The weight is similar: Bondi X weighs 2.8 grams less (men's model) and 5.7 grams more (women's model) than the Bondi 7.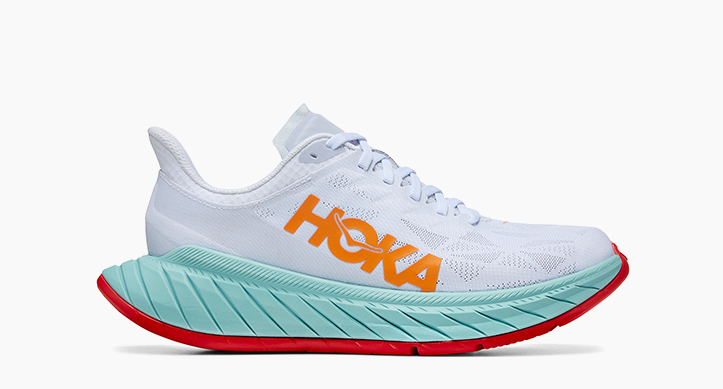 Carbon X 2
Both Bondi X and Carbon X 2 offer a user experience under the banner of support and feature a carbon fiber plate designed to ensure maximum efficiency and propulsion.
Bondi X has greater cushioning, guaranteed by a softer compound than the dual-density midsole of Carbon X 2. The latter is more performance-oriented, while Bondi X offers a combination of comfort and performance.
Bondi X weighs 59.5 grams (men's model) and 62.4 grams (women's model) more than the Carbon X 2.
| | | | |
| --- | --- | --- | --- |
| U.K. | E.U. | U.S. | cm |
| 3.5 | 36 | 5 | 22 |
| 4 | 36 2/3 | 5.5 | 22.5 |
| 4.5 | 37 1/3 | 6 | 23 |
| 5 | 38 | 6.5 | 23.5 |
| 5.5 | 38 2/3 | 7 | 24 |
| 6 | 39 1/3 | 7.5 | 24.5 |
| 6.5 | 40 | 8 | 25 |
| 7 | 40 2/3 | 8.5 | 25.5 |
| 7.5 | 41 1/3 | 9 | 26 |
| 8 | 42 | 9.5 | 26.5 |
| 8.5 | 42 2/3 | 10 | 27 |
| 9 | 43 1/3 | 10.5 | 27.5 |
| 9.5 | 44 | 11 | 28 |
| 10 | 44 2/3 | 11.5 | 28.5 |
| 10.5 | 45 1/3 | 12 | 29 |
| 11 | 46 | 12.5 | 29.5 |
| 11.5 | 46 2/3 | 13 | 30 |
| 12 | 47 1/3 | 13.5 | 30.5 |
| 12.5 | 48 | 14 | 31 |
| 13 | 48 2/3 | 14.5 | 31.5 |
| 13.5 | 49 1/3 | 15 | 32 |
| 14.5 | 50 2/3 | 16 | 33 |